CompleteBrain Nootropics - Achieve Mental Dominance - Improves Memory, Mood, Focus, Clarity and Creativity - Month Supply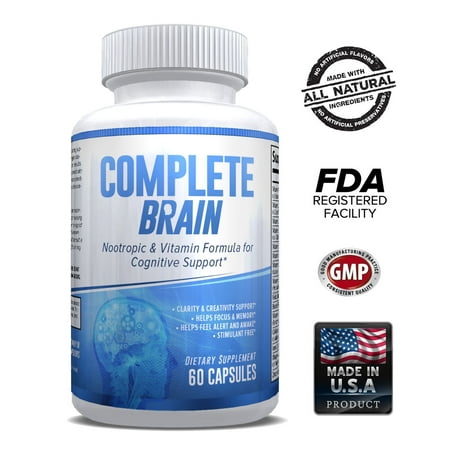 CompleteBrain is a multivitamin and nootropic formula designed from the ground up for today's fast paced world. Rather than just adding ingredients specific to cognitive function, we included ingredients that are vital to overall wellbeing and specific to general nervous system support but lacking in most modern diets. If your goal is to improve things like focus, concentration and memory you need to make sure you're getting all the nutrients your body needs before simply taking supplements to improve brain performance.
Poor mental performance can be a simple result of missing the right basic nutrients in your diet, so it's important to address this.
CompletBrain also includes ingredients to support anxiety and stress reduction* – 2 things often getting in the way of clear thoughts and good sleep!
No stimulants are in this formula as for some, these can actually cause anxiousness which leads to poorer mental performance. If you work better with caffeine, just take it like normal in addition to CompleteBrain - it will improve the effects.
How does CompleteBrain work?
The formula in CompleteBrain is designed to tackle mental performance from 3 angles and has support ingredients for each.
1) Common, well known vitamins and minerals, but often lacking in modern diets
As one would probably guess, a healthy diet is essential to good coginitive function. Unfortunately for many of us, there isn't enough time in the day to prepare healthy meals. Not only that, but most processed and fast foods tend to strip nutriends from the foods we eat. Addressing this common nutritional gap is the first step in improving coginitive function and overall well being.*
2) Synergistic & Propietary Cognitive Blend
These are the ingredients not commonly found in most diets that take coginition and things like memory, focus, clarity and mood to the next level.*
3) Stress and Anxiety Relief, No-stimulant formula
Stress and anxiety are productivity killers, it's almost impossible to focus and think clearely when you're stressed or anxious. That's why we included ingredients that help reduce these 2 productivity killers*.
What are people saying?
"I tried CompleteBrain by eXplicit Supplements because I was looking for something to give me more clarity, help me focus, and help me make decisions quickly. I have long days that can't afford dips in productivity, and I manage many projects and clients at once, so multi tasking is the only option for me. CompleteBrain gave me exactly what I was looking for with no side effects. Decision fatigue was eliminated, focus was improved, as was clarity. I found a very even and smooth productivity result all day, rather than spikes. The pills were easy to swallow and I am happy that it doesn't require several pills a day. This will be a main stay in my daily routine." - Tanner Rankin, CEO - Source Approach Inc.
Common questions:
Where is CompleteBrain made?
CompleteBrain is made in the USA, Utah actually. Is it produced in a FDA registered facilty that practices GMP, ensuring quality and consistent products.

Are there any allergens in CompleteBrain?
There are no Soy, Dairy or Egg ingredients so it's extremely unlikely, but it is produced in a facility that may contain these ingredients. Check with a doctor if you're concerned.
How long do I need to take it to work?
We recommend taking it for at least a week, ideally 2. Results will vary individually of course. This isn't a product designed to give you a high or instant buzz, it's designed to improve cognitive function over time*.
Why no stimulants?
A lot of manu...