"Stalion Sports Exercise Gym Running Armband Case Universal for ALL Smartphones (4.7-5.5"" Inch Display)"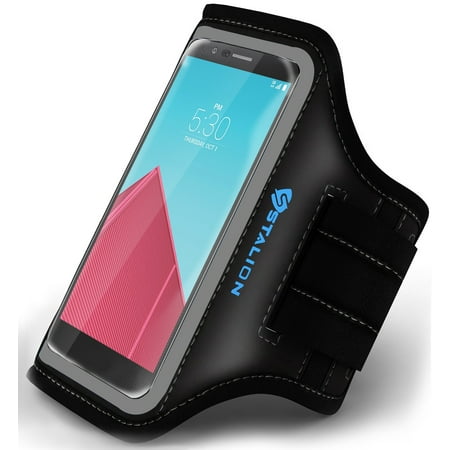 Sports Universal Phone Armband
Feel free to vigorous intense workouts, sports and leisure activity. Flex, jump, run, lift, and more! Perfect comfortable fit for your device and body! Made of light weight high quality neoprene nylon to provide ultimate comfort and agility while you train.
Product Features
- The reflexive armband is sweat resistant and washable- Securely holds your device in place while protecting- The face cover is made of a clear scratch resistant material enabling full navigational control during your activities without sacrificing touch screen sensitivity- Multi-position Velcro strap allows adjustable sizes 10"-15"- ID/ credit card/ Money holder slot to place your valuables- Light reflective strip around the touch screen panel to make your activities night time safe
Compatibility
- Mobile phones with screens up to 5.5"Inches- Strap fits arm circumferences ranging 9"-21"- Suggested Models:LG G4 G5, Sony Xperia X Z3 Z4 Z5, HTC One M7 M8 M9 A9, HTC 10, Microsoft Nokia Lumia 550 650 950, Huawei P9, Honor, Mate 8, OnePlus 2 3, Google Nexus 5 5X 6 6P, Motorola Droid Turbo 2, Moto E G X Z, Droid Maxx 2, Droid Razr, Blackberry Priv Leap, Asus ZenFone, BLU WIN, R1 Life One Pure XL, ZTE Axon Spro, and many more...
Installation
- Easily slip in and out of the rear with device facing towards the clear screen. Headphone slots placed on all corners of rear to accommodate any device you have!
Important Notes*
- Please check your phone display size to make sure it fits inside our reverse slip in pouch.- Armband is NOT 100% waterproof; cannot be submerged in water or exposed to HEAVY SWEATING for long periods of time such as marathon running and other extensive activities.