×
---
---
Archangel Raphael Magic Planetary Amulets Set Angel Wings Pink and Rainbow Crystals Pendant Necklaces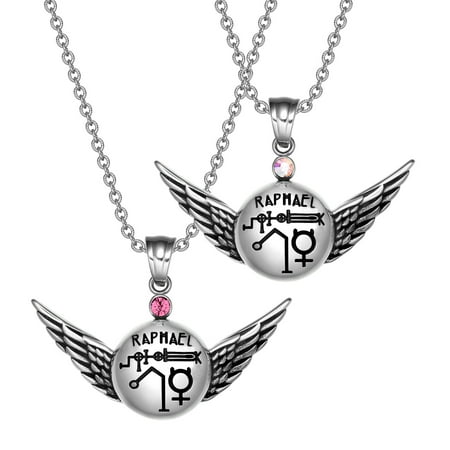 Absolutely Unique and Special Archangel Raphael Magic Planetary Amulets with Angel Wings on each side. One Amulet is holding Beautiful Pink Cabochon Austrian Crystal and Another One holds Beautiful Rainbow Cabochon Austrian Crystal. Archangel Name and Magic Planetary Symbols are Engraved over the Circle with Antiqued Black Color Ink and looks Very Unique and Eye Catching. Each Charm is Light Weight and will be comfortable to wear by anyone.
This Set will be Perfect for Love Couples or Best Friends. Share Magic, Protection and Good Luck Powers with someone you Love and Care about.
Amulet meaning:
Archangel Raphael is used to invoke his knowledge, wisdom, healing, and protective powers. Raphael's name means "God heals". Help promote safe travel. Restore wholeness and restore better levels of energy around individuals. The Amulet holds Symbol of the Planet Mercury, Ancient Symbol for Archangel Raphael and Magical Symbols representing Archangel Raphael in the Universe.