×
---
---
Cressi Rocks Kids / Junior / Children Mask Snorkel Combo Package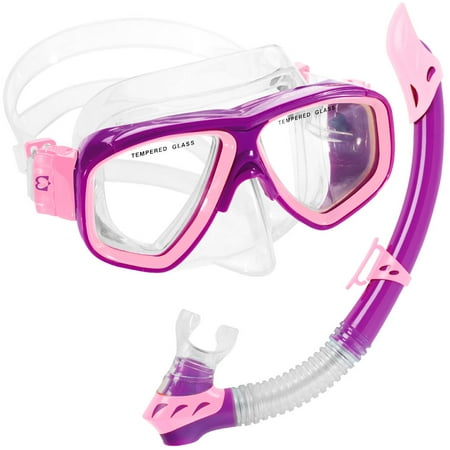 The Cressi Rock Kid Combo is a great new kids snorkel set. This mask and snorkel set will let your little snorkelers feel comfortable and confident as the explore the reef on your next warm, tropical vacation.The mask skirt is comprised of hypoallergenic soft liquid silicone to keep your kiddos comfortable while avoiding irritation. Ultra-clear tempered lenses will assure impeccable 180-degree views and incredible durability. The frame is constructed from techno-polymer for added strength and durability. The mask also features a fully adjustable mask strap and quick adjust buckles that allow you to easily adjust the mask for maximum comfort for your little swimmers.The semidry snorkel features a contoured tube and a corrugated elbow that provides added comfort by relieving pressure from your kids jaws. Because nothing is less fun than an uncomfortable snorkel. The semidry top means that water will be diverted when it tries to enter the snorkel. This allows your kids to breathe normally and comfortably while only allowing a limited amount of water to enter the tube. It also features a purge at the base of the snorkel, should any water enter the tube it will be easy to blow out. Additionally, a replaceable silicone mouthpiece ensures extra comfort and makes for easy swapping of other styled mouthpieces.
Cressi Junior Snorkeling Mask and Snorkel Combo
2-Window Mask with Easy-to-Adjust Buckles
Semi-Dry Top Design Snorkel with One-Way Purge Valve for Easy Clearing
Clear Skirt Silicone Mask with tempered glass lenses.
Ideal for children or adults with small faces