CWK Laptop Charger AC Adpater Power Supply Cord Plug for Toshiba Satellite L635-S3030 L755-S5214 L755-S5246 L755D-S5130 L875-S7208 L875D-S7230 L955-S5330; A135-S4427 A135-S4467 A305D-S6848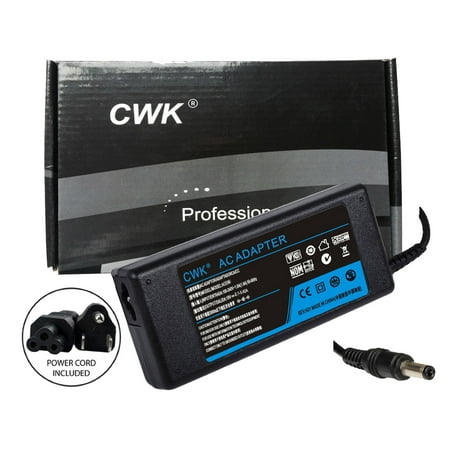 CWK Platinum Quality Features:
* Overload Protection with High Quality Wires
* Over-charge/discharge protection
* Overheating Protection with Smart Chip
* Anti-Interference Feature with better Isolation Materials
* Short-circuit protection
* Fully compatible with the original laptops
* Tested with strict quality control standards
Compatible models & part#:
Toshiba Satellite C855-S5190, C855-S5236, C855D-S5307, C855D-S5110, C855D-S5230, C675D-S7101, C655D-S5508, C875-S7304, C875-S7103, C875-S7303; L635-S3030, L755-S5214, L755-S5246, L755D-S5130, L875-S7208, L875D-S7230, L955-S5330; A135-S4427, A135-S4467, A305D-S6848, A305-S6858, A665-S6100X; S855D-S5253, S875-S7136; M645-S4114; P755-S5395; T135D-S1324 Power Supply Wall Cord 65W
Buy with confidence!
24 Month Warranty
Ship the same or next business day Guaranteed
24 x 7 Email Support
100% New Components - never refurbished, recycles, or used
100% OEM Compatible - Guaranteed to meet the specifications of your original device
Nearly all our products have UL, CE and RoHS certificates.
Peace of mind exclusive 100k product protection
Copyright CWK © 2015 All Rights Reserved.