×
---
---
Wilton Easy Flex 24-Cavity Bite Size Silicone Mold, Daisy 2105-4889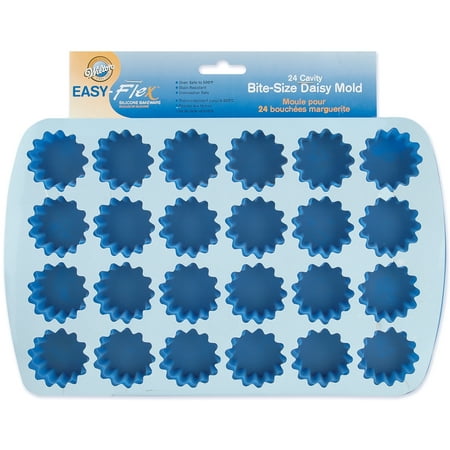 Wilton Easy-Flex Silicone Bite-Size Daisy Mold:
Silicone is the "Wonder Kitchen Tool"
Can be used in the oven (up to 500 degrees F/260 degrees C), toaster over, microwave, refrigerator and freezer
Virtually unbreakable
Perfect tool for cold foods including Jell-O, ice sculptures and candies
Perfect also for hot foods including cake, muffins, bread, pies, main- and side-dishes and so much more
The flexibility makes removing foods much easier than typical metal pans
Dishwasher-safe
Stain- and odor-resistant
8-1/2" x 13-1/2" mold with twenty-four 1-5/8" daisy cups
Blue color
Imported
Wilton Bakeware - For more than 85 years, families have gathered around the dinner table to enjoy a home-cooked meal made using Wilton bakeware. And, for life's special moments, Wilton is always there, providing the widest selection of bakeware, cake pans and cookie sheets. Serving you around the clock--from breakfast through dessert--Wilton bakeware is known for its reliability, versatility and long-lasting durability, so you can keep the family recipes coming. Warm and flaky breakfast pastries, perfectly crisped pizza crusts, savory lasagna, and golden brown cookies and cakes--it's all possible with Wilton bakeware. You pass down the recipes; we continue the tradition of making sure your recipes turn out great. From our convenience lines, like heavy-duty nonstick pans and casserole dishes to lightweight, even-heating aluminum--Wilton has you covered. Because we believe in creating long-lasting memories, shared over homemade meals and family recipes, we pride ourselves on creating exceptionally durable, long-lasting bakeware. And, because families are busier than ever, we've created a complete line of flexible bakeware, made to fit your changing needs. We give nothing but the best, so you can bake it better.