×
---
---
Brewberry Premium Wireless Automatic Electric Milk Frother w/ Hot-Cold Feature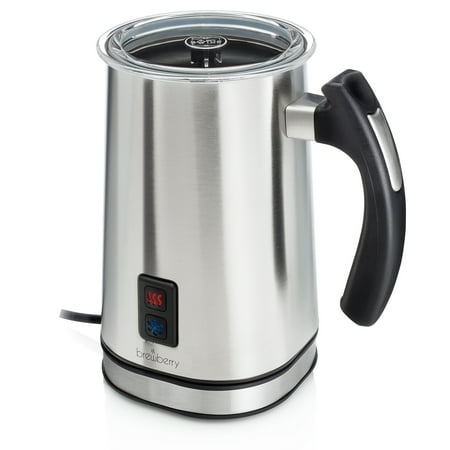 Hot Froth, Cold Froth, and Hot Milk
The Brewberry Milk Frother allows you to make the froth either hot or cold,which most of our competitors do not. This is perfect for hot coffee, icedcoffee, cappuccino, Café Latte, and many more drinks.
Stainless Steel
Stainless steel exterior makes it elegant enough for any kitchen and easy toclean as well.
Non-Stick Interior Coating
The jug is comprised of a non-stick coating inside which makes it extremelyeasy to clean.
Ideal for Home Use
The Brewberry Automatic Milk Frother heats about 1 cup (8.5 oz./250 ml.) ofmilk at a time, perfect for serving yourself or your family. For frothing, usehalf that amount (4.25 oz./125 ml.) because the milk will double in volume asit foams.
Features
Functionality: Allows you to make the froth either hot or cold, as well asheating with a small amount of froth.
Long Lasting: Stainless Steel maintains contents temperature
Use For: Cappuccino, Café latte, Latte Macchiato, Hot Chocolate, InstantFrothy Coffee, Instant Milky Coffee
Capacity: Frothing 4.25 oz./125 ml., heating 8.5 oz./250 ml
Customer Satisfaction: Brewberry is dedicated to 100% customersatisfaction. Our friendly customer service team is always ready to help withall questions or issues. When you purchase a Brewberry thermometer you can beconfident in your buying decision
Warranty
The Bewberry Automatic Electric Milk Frother is warrantied to the originalowner for two years from the date of purchase for defects in material andworkmanship under normal use and service.