×
---
---
4 Film Favorites: Modern Romances Collection - The Notebook / He's Just Not That Into You / Life As We Know It / Crazy, Stupid, Love (Widescreen)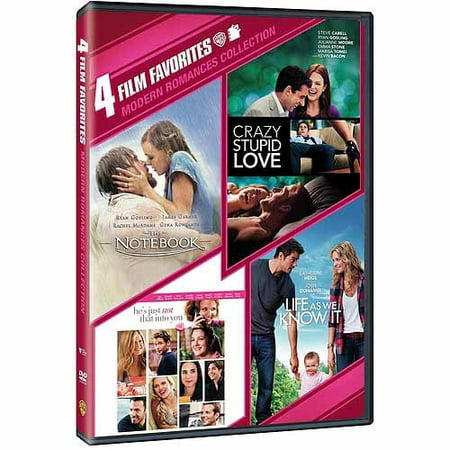 "The Notebook": Behind every great love is a great story. As teenagers, Allie (Rachel McAdams) and Noah (Ryan Gosling) begin a whirlwind courtship that soon blossoms into tender intimacy. The young couple is quickly separated by Allie's upper class parents who insist that Noah isn't right for her. Several years pass, and, when they meet again, their passion is rekindled, forcing Allie to choose between her soul mate and class order. This beautiful tale has a particularly special meaning to an older gentleman (James Garner) who regularly reads the timeless love story to his aging companion (Gena Rowlands). Based on the best-selling novel by Nicholas Sparks, "The Notebook" is at once heartwarming and heartbreaking and will capture you in its sweeping and emotional force. "He's Just Not That Into You": Are you the exception...or are you the rule? Remember that really cute guy who said he'd call....and didn't? Maybe "He's Just Not That Into You". An all-star cast looks for love and finds laughs in this savvy, sexy, right-now romcom. Based on the runaway (like some guys you know) bestseller by "Sex And The City" series writers Greg Behrendt and Liz Tuccillo, "He's Just Not That Into You" sparkles with zingy "aha" moments any survivor of the dating wars will recognize. See it with someone you'd like to love. "Life As We Know It": Holly (Katherine Heigl) is an up-and-coming caterer and Messer (Josh Duhamel) is a promising network sports director, after a disastrous first date, all they have in common is their dislike for each other and their love for their goddaughter Sophie. But when they suddenly become all Sophie has in this world, Holly and Messer must set their differences aside. Juggling career ambitions and competing social calendars, they'll have to find common ground while live under the same roof. Josh, Christina Hendricks, Hayes MacArthur and Jean Smart costar in this tart and tender romantic comedy directed by Greg Berlanti (TV's "Brothers & Sisters" and "Everwood"). "Crazy, Stupid, Love": Fortysomething Cal Weaver (Steve Carell) thinks his marriage is perfect, until his wife Emily (Julianne Moore) asks for a divorce. Now Cal is single and looking for love with the help of expert lady-killer Jacob Palmer (Ryan Gosling), who gives Cal's manhood a remarkable makeover. Amid inappropriate crushes and romantic encounters, Cal and Jacob discover that being a player without the right partner isn't just crazy and stupid, it's impossible.
"The Notebook" Includes: Additional Scenes; 4 Featurettes: "All In the Family: Nick Cassavetes"; "Nicholas Sparks: A Simple Story, Well Told"; "Southern Exposure: Locating 'The Notebook'" And "Casting Rachel And Ryan"; 2 Commentaries: Director Nick Cassavetes And Novelist Nicholas Sparks; Rachel McAdams Screen Test; Theatrical Trailer; "He's Just Not That Into You" Includes: Additional Scenes With Optional Commentary By Director Ken Kwapis; "Life As We Know It" Includes: Additional Scenes; "Crazy, Stupid, Love" Includes: Deleted Scenes.
Subtitles: English SDH (Subtitles for Deaf and Hearing Impaired) and Spanish.