Oak Leaf Adhesive Hooks 6 PCS Heavy Duty Wood Steel Decorative Stick Wall Hooks Clothes Hangers for Home Kitchen Coats Hats Keys Bags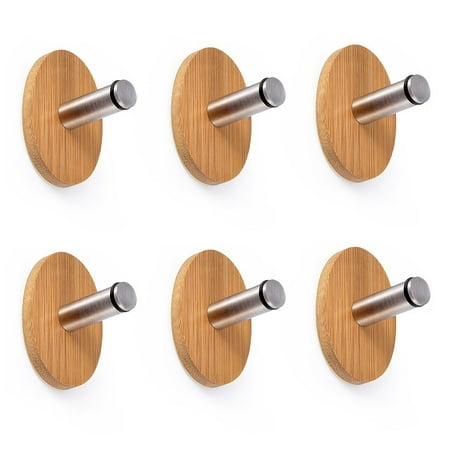 Use for What:
Attractive and useful throughout home and office, these Asian-inspired bamboo wall hooks provide strength, beauty and durability for many tasks. Did you notice the black rubber retaining ring near the end of each hook? Items stay in place. On or off hangers, the hooks hold coats, clothing, hats, towels, robes, leashes, keys, even pots and pans (up to 4.5 pounds). Also, with their distinctive appearance, use a set to support artwork, show off a prize tapestry or designer carpet. You¡¯ll have a unique conversation piece.
Where to use:
Mount these in the entry, family room, bedroom, kitchen, office, workshop or garden shed. With six per set, get creative. The oval base is made with strong hard bamboo in a light oak finish that complements any decor.
The mounting side employs high strength 3M adhesive for secure adhesion on a wide variety of surfaces including painted textured wallboard, dry wall, ceramic and porcelain tile, granite, glass, metal, cultured marble, plastic and paneling.
Why you need:
Attractive, strong and easy to use, these unique wall hooks are bound to draw compliments. At our price, buy several sets for yourself and as gifts (there is an option to purchase with gift wrapping).
Note
Please ONLY apply to clean and dry surface
Put pressure on it when apply
Wait 24 hrs before hanging
It's not removable due to its strong stickiness, please choose the spot with care
Product Dimensions: 1.6 x 2.4 x 15.8 inches
Package Included
6 x Adhesive Hook