×
---
---
Headphone, Doosl® In-ear Hi-Fi Music Headphone for phone, tablet, laptop, computer etc, In-ear headphone, Hi-Fi music headphone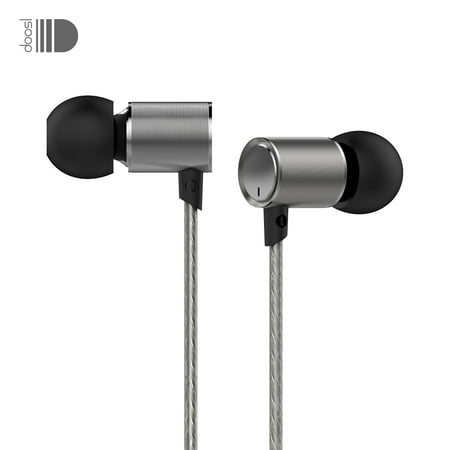 Headphone, Doosl® In-ear Hi-Fi Music Headphone for phone, tablet, laptop, computer etc, In-ear headphone, Hi-Fi music headphone
Doosl® In-ear Hi-Fi Music Headphone

Features:
- Hi-Fi & super clear sound quality
- Comfortable earphone plug
- Broad sound field
- Effectively reduces noise
- Ergonomic design
- Universal standard 3.5mm aux plug
- Works with most kinds of audio devices
- Made of high-quality materials
- Unique and fashionable appearance

Parameter:
1. Model: DSIT018
2. Type: In-ear
3. Impedance: 16Ω
4. Frequency Range: 10-24000Hz
5. Sensitivity: 108dB/mW
6. Wired/Wireless: Wired
7. Plug Diameter: 3.5mm
8. Plug Type: L-type plug with gold plating
9. Cable Length: 1.2m
10. Cable Material : High-purity oxygen-free copper wire
11. Driver Unit: 10mm rare earth permanent magnet moving coil

Accessories:
1. Carrying case
2. Silicone earplug*3 pairs (L/M/S)
3. Cleaning cloth
4. User manual
5. Warranty Card

Tips:
1. "Burning in" a pair of new headphones refers to the process of playing a constant, relatively loud audio signal through them for a certain period of time before using them normally.
2. This procedure is meant to improve the headphone's sound by loosening their internal elements and make your new headphones sound better.
3. Burn-in is a gradual process. At the begining, start playing some soft music through the headphones and set the music to repeat infinitely. Turn the volume to a low level and let the music play through the headphones for 10-30 hours. Then, play some music and turn the volume to a moderately loud level - the volume should not be so loud that it's uncomfortable to listen to through the headpones. This process will last for 100-200 hours.
4. Please take care of your headhones during the burn-in. Let the headphones take a ten minutes' break every two hours and turn the volume to a proper level-not too loud.
5. Lossless music is recommended during headphone burn-in, such as music with the format APE, FLAC or WAV.
6. Bass effect has big relations with the music you are playing. If you want to test the bass effect of earphones, here we recommend you to play heavy bass music. Good earphones should have excellent banlance among triple frequencies, and offer listeners enjoyable listening experience.
More Vinsic products, please visit:
https://www.walmart.com/tp/vinsic