×
---
---
ColorPlace Grab-N-Go Onyx Black Interior Paint with ScotchBlue Painter;s Tape Original Multi-Use, .94in x 60yd(24mm x 54,8m Bundle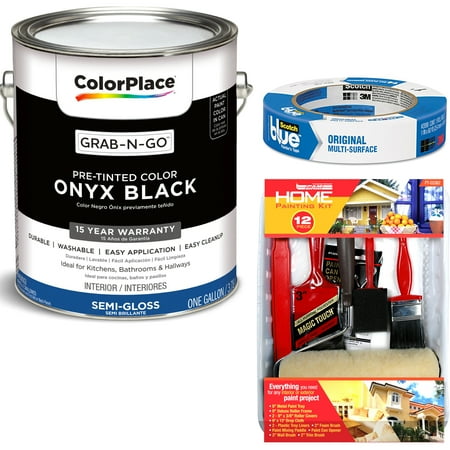 Colorplace Onyx Black Satin Interior Paint, 1 Gallon:
Interior paint, Satin
Durable
Easy application
Easy clean up
Acrylic latex
15-year warranty
ScotchBlue Painter's Tape Original Multi-Use, Mu.94in x 60yd(24mm x 54,8m
The Original Scotch Blue Painters' Tape is the number one seller of its kind in the U.S., and both professionals and do-it-yourselfers appreciate its qualities. It combines easy-to-use features and creates excellent paint lines. This ScotchBlue tape comes off the roll easily and applies quickly with a pressure-sensitive adhesive that's convenient to use even in areas that are hard to reach. The acrylic adhesive and crepe backing is also comfortable. When you're done painting your room, you can remove the tape without causing damage to the wall's surface or leaving any residue. There will only be excellent and sharp paint lines. The 14-day clean removal and direct sunlight protection features make this multi-surfaced removable tape ideal for outdoor projects requiring a long waiting time to dry.
•Easy to use
•Comes off the roll easily
•Applies quickly and easily with a pressure-sensitive adhesive
•Removes cleanly with no residue
•Does not cause surface damage
•Delivers sharp paint lines
•14-day clean removal
Model Number: MMM209024A
Gam PT03362 12-Piece Roller Paint Kit:

12-piece kit includes

9" metal paint tray
9" deluxe roller frame
2 - 9" x 3/8" roller covers
9' x 12' drop cloth
2 plastic try liners
2" foam brush
Paint can opener and mixing paddle
3" wall brush
2" trim brush

This home paint brushes kit is suitable for painting a number of rooms