Wahl Deep Tissue Percussion Therapeutic Electric Massagers for Muscles, Back, Neck, Shoulder, Leg - Full Body Pain Relief, Model 4290-300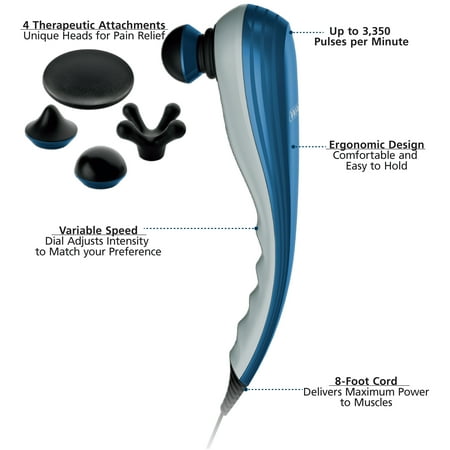 Wahl Clipper is the #1 brand of beard trimmers and hair clippers*. The brand used by professionals since 1919.
Variable intensity offers a customized experience from a deep invigorating feeling, to a gentle soft massage and everything in between.

Extremely powerful motor with up to 3,350 pulses per minute.

Four attachments: The four finger flex replicates a masseuse's hand. The Accupoint helps break up knots. The Deep muscle helps relax the body anywhere. The New Extra Wide Flat Disc covers large areas. Sleek ergonomic design, makes it easy to use by just about anyone

Best gift for men, wemon, parents on Thanksgiving, Chrismas, Mother's Day, Father's DayBirthday and other special events. *Based on North American Dollar Sales

Ask the Experts
Q: What is one of the most often prescribed complementary pain management therapies by physicians?
A: Massage. Physicians say massage..*
* Source: International Journal of Therapeutic Massage & Bodywork, Vol. 3, No.1 2010
..is most likely to be beneficial.
..is least likely to be harmful.
..is an effective tool for pain management.
..does not produce adverse reactions.
Q: What does therapeutic massage do?
A: The FDA says massage..**
** Source: Department of Health & Human Services, U.S. Food and Drug Administration at 21 CFR 890.5660
..increases local blood circulation
..reduces muscle tension
..relieves pain and fatigue
Visit us at Massagers. Wahl.com for more information.
Wahl Clipper Corporation,
P.O. Box 578,
Sterling, Illinois, 61081.
massagers.wahl.com
© 2015 Wahl Clipper Corporation