Dayton Audio DAEX25TP-4 Tripod 25mm Exciter 20W 4 Ohm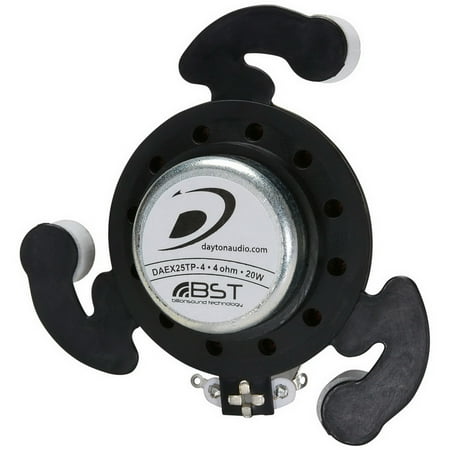 Manufacturer Part Number: DAEX25TP-4
Highlights
Unique, three arm design for exciting a large surface
Pre-applied 3M VHB adhesive for quick, secure installation
Rare-earth neodymium motor and a proprietary voice coil
4-ohm impedance for use with small, Class D amplifiers
20 watt RMS power handling for high output
Dayton Audio DAEX25TP-4 Tripod 25mm Exciter 20W 4 Ohm
Dayton Audio's DAEX25TP-4 tripod exciter is built with three arms that extend out from the main exciter body, which allows this exciter to transfer sound to a much larger surface for lower frequency response extension (more bass).
A neodymium magnet is employed to create maximum magnetic flux around the proprietary voice coil for increased sensitivity when compared to similar sized exciters. In turn, this reduces power requirements and makes it possible to use very small audio amplifiers, without sacrificing total output. The 1" voice coil, and cooling vents, allows for more input power for higher output applications while maintaining a slim-line form factor.
To ensure maximum acoustic energy transfer between the transducer and the surface to which it is attached, 3M VHB (Very High Bond) adhesive is pre-applied to the main body, and the three arms ... just peel and stick! Two PCB solder points keep installation and wiring as compact as possible.
Note: An exciter's frequency response and sensitivity are completely dependent on the exciter's designated surface. Thinner, smaller materials will tend to be louder and create a mid/tweeter response. Thicker, larger materials (with multiple exciters) will be slightly quieter but result in a more full-range sound.
Specifications: Power handling: 20 watts RMS VCdia: 25 mm Nominal impedance: 4 ohms Re: 4.2 ohms Le: 0.10 mH Fs (uncoupled): 233 Hz Dimensions: 3.49" (88.71 mm) overall diameter x 0.83" (21 mm) total height Weight: 82 grams
To learn more about Dayton Audio Exciters, and for help on which Exciter is right for you, check out Dayton Audio's Understanding and Using Dayton Audio Exciters White Paper.
Product Specifications
Impedance: 4 ohms
Power Handling (RMS): 20 Watts
Dayton Audio DAEX25TP-4 Tripod 25mm Exciter 20W 4 Ohm
Brand: Dayton Audio
Model: DAEX25TP-4
Part Number: 295-226
UPC: 848791000935
Product Category: Exciters & Tactile Transducers
Unit of Measure: EA
Weight: 0.2 lbs.
NOTE: International/PO BOX deliveries are not available.
The item can't be shipped to AF, AA, AC, AE, AM, AP, HI, AK, PR in the Unite States.