Verizon LG Vista Prepaid Smartphone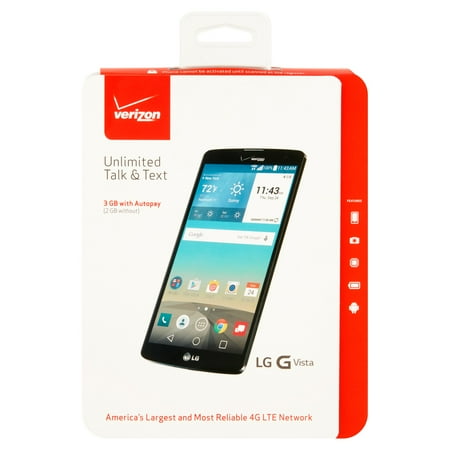 Product Features
5.7" HD display
8 MP rear-facing camera/1.3 MP front-facing camera
1.2 GHz quad core processor
3200 mAh removable battery
Android™ operating system
Plan Information: Unlimited Talk is for domestic calls only: excludes 411. Refill purchase balance expires in 30-365 days depending on amount purchased, unless you replenish, and may be depleted prior to expiration date. You may add up to two data features, which are held in reserve until current data allowance is exhausted or expires. For information about Verizon Wireless Broadband Internet Access Services, visit verizonwireless.com/broadbandinfo.
Smartphone Monthly Plans
Unlimited Talk & Text
$ 45/mo 3 GB with Autopay (2 GB without) Unlimited Text to Mexico & Canada
$ 60/mo 6 GB with Autopay (5 GB without) Unlimited Text to Mexico & Canada, Unlimited Talk to Mexico & Canada
Add more data when you need it
Add 500 MB $5 Good for 30 days
Add 1 GB $10 Good for 90 days
Add 3 GB $20 Good for 90 days
4G LTE Prepaid Data Coverage
3G Prepaid Data/Voice Coverage
Prepaid Voice Roaming Coverage - 3G Prepaid Data Roaming Coverage Not Available
Prepaid Coverage Not Available
Important Information:
This map is not a guarantee of coverage and may contain areas with no service. See verizonwireless.com/coveragelocator.
Important Information: Activation and use of this phone are subject to the Verizon Wireless Customer Agreement and Calling Plan details as described in the enclosed brochures. Full details available in Prepaid brochures and at verizonwireless.com/prepaid. Up to $35 activation fee, other charges & restrictions may apply.
Product meets current FCC Radio Frequency Exposure Guidelines.
FCC Equipment Authorization ID: ZNFVS880
Additional details within and at http://www.fcc.gov/oet/fccid
Phone must be activated on Verizon Wireless Prepaid service and first monthly payment must be made before it can be used with any other service.
Box - Paper - Widely Recycled
Tray - Plastic - Check Local Recycling
Wrap - Plastic - Store Drop-Off
Tray - Plastic - Check Locally, not recycled in all communities
how2recycle.info
LTE is a trademark of ETSI. © 2016 Verizon Wireless. All rights reserved. Verizon Wireless and the Verizon Wireless logos are trademarks of Verizon Trademark Services LLC. © 2016 LG Electronic, Inc. All rights reserved. LG and the LG logo are registered trademarks of LG Corp.