×
---
---
Battling Butler / Go West (Blu-ray)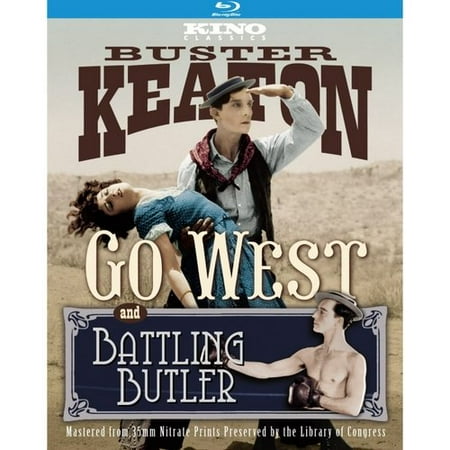 "Battling Butler": The greatest box-office success of all his independent comedies, "Battling Butler" is a rarely-seen gem that mingles Keaton's deadpan demeanor and awesome physical agility with a particularly dramatic storyline. Keaton stars as Alfred Butler, a fragile young man whose father sends him into the country where he hopes masculinity will blossom. Ironically, he is there mistaken for "Battling" Butler, a renowned prizefighter of firey temperament. To impress a young lady (Sally O'Neil), Alfred carries on the ruse by engaging in a laughingly inept training regimen, but his harmless charade is soon complicated by the untimely arrival of the true contender (Francis McDonald). When the long-awaited opportunity to prove himself a man finally comes, it is before the gloved fists of the boxer, who initiates a locker-room brawl. There, in a sequence of agonizing tension and delightful surprises, "Battling Butler" reaches its unforgettable climax. "Go West": A fascinating alternative to the manic stunt work and elaborate sight gags that distinguish the films of Buster Keaton, Go West offers a rare and satisfying glimpse of his talent for more expressive comedy: charming moments of intimate humor flavored with rich pathos. Heeding the expansionist call of Horace Greeley, a hapless young man (aptly named "Friendless") idealistically hops a freight train westward to meet his destiny, first in a teeming metropolis (where he is roundly trampled by rush-hour foot traffic) then into the ranchlands of Arizona. In the side-splitting course of his attempts at bronco-busting, cattle wrangling, and even dairy farming, Friendless finds himself enamored with Brown Eyes, a particularly affectionate bovine beauty from whose hoof he removed a painful pebble. Setting traditional ideas of romance and masculinity on their ears, "Go West" is uniquely graceful and characteristically hilarious - especially in the film's dynamic finale. In an epic sequence that is pure Keaton, sentimental comedy is put aside as hundreds of cattle are unleashed upon downtown Los Angeles, wreaking uproarious havoc upon all in their path, with only one lonesome cowboy to round 'em up.
Go West, A Western themed comedy short Produced by Hal Roach, starring the "Dippy Do Dads," a troupe of trained monkeys, , A rare 60-minute audio recording of Buster Keaton hashing out a script proposal for the western TV series "Wagon Train" (courtesy of Bob Borgen), , Excerpts of the Screenplay for an unproduced remake of Battling Butler, written by Keaton in 1947, , Gallery of photographs from the 1922 stage production of Battling Butler, , Two galleries of production stills.
Silent Films with English Intertitles; Presented in Black & White.