Boveda 84% RH 2-Way Humidity Control, Large 60 gram, Retail 12-pack Cube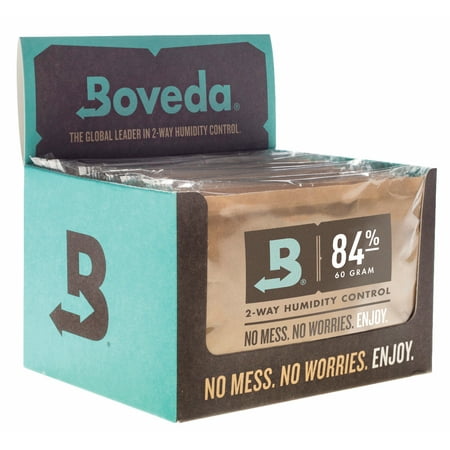 Set of 12 large 60 gram packs in our retail carton, each individually-overwrapped pack is 5.25" x 3.5".
Cycles in humidity are eliminated, no more hassle of using distilled water.
Releases only purified water vapor through the hyper-filtration membrane.
Use 2 packs for every 50 cigars your humidor can hold
Never guess if or when to refill your humidifier again
Purchase Boveda packs in boxes of 12 and save! This case contains 12 individual Boveda, each of which is wrapped in a plastic overwrap to keep them fresh until you're ready to use them. Shelf life of Boveda left in their overwrap is 2 years.
60 gram Boveda provide hassle-free maintenance of full-size humidors and Humidor Bags. Every Boveda RH is accurate to +/- 1% in an air tight environment, which humidors are not. It's common that the actual RH of your humidor will stabilize up to 5 points lower than the Boveda RH you're using, due to humidor and ambient dryness.
That's why we make Boveda in six different RH levels: 62, 65, 69, 72, 75 and 84 percent - so you can use the RH that achieves the humidity you and your cigars prefer.
Unlike distilled water and PG solutions with sponges/gel/crystals/beads that will impart unwanted flavors on your cigars, Boveda's reverse-osmosis membrane only releases pure water vapor and Boveda will never damage anything through direct contact.
What Humidity Level Do I Need?
Boveda is available in relative humidity levels of 62, 65, 69, 72, 75, and 84% (exclusively for seasoning). All Boveda are accurate to +/- 1% of the RH printed on the pack in an air-tight environment. Humidors are not air tight. Depending on humidor quality and ambient conditions, it's not uncommon for the actual RH to be stable anywhere from 2-6 points below the Boveda RH you've chosen. This is why we recommend 72% for your first set after seasoning. If it's 72 on the nose, you're perfect. If it drops a few points, you're still perfect. Based on how your humidor performs, you can decide whether to move to 62, 65, 69, or 75.
How Do I Know When Boveda Needs To Be Replaced?
All Boveda will turn into a solid wafer when they're dead. So it's short of that, when there aren't many soft spots left, that you'll want to replace them. Pronounced crystallization and hardening of the corners first is completely normal.
What Makes Boveda Different?
All humidification products are not created equal, and we know it's difficult to cut through all of the misinformation out there. Below are some simple points which we believe will help consumers (and retailers) understand the important differences between the various types of humidification on the market. If you think your humidification device is "regulating" to a certain RH level because the packaging says so, it's very simple to test. Place the (filled) device in a clear air-tight container with a hygrometer and let it sit for 24 hours. Only Boveda will still be reading at the RH level it's supposed to, because it's the only true two-way humidity control.
How Do I Choose The Right Number Of Boveda?
We recommend using at least one large 60 gram Boveda per 25 cigars your humidor holds, even if it isn't full. It's still air space and wood that needs proper humidification.
Because Boveda will never over-humidify beyond the number on the pack, using more than is recommended will just work more efficiently and need to be replaced less often.
Air-tight containers like plastic tupperdors and travel humidors don't need as much horsepower to keep humidified because they don't leak as much air.