×
---
---
colore acrylic paint studio set - professional grade painting kit for painting canvas, clay, fabric, nail art, ceramic & crafts - great for kids & adults - 12 extra large, 75 ml (2.5 oz) tubes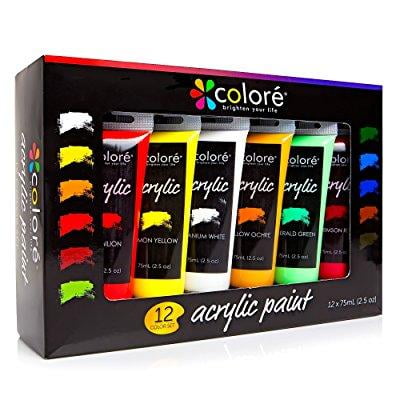 what makes this acrylic set different?
manufactured by one of the most renowned brands in the arts and crafts industries for high quality paints and artistic supplies, this 12 acrylic paint studio has been carefully formulated using a unique combination of the qualities of professional grade paints and the seamlessness of student grade paints to provide an acrylic paint studio set that is not only long lasting but also easy and convenient to use.
never run out of colors:
this pro-grade acrylic paint set contains a wide range of the best selling colors including primary and secondary colors. each color contained in the set can be used alone or blended with any other color or colors to form an infinite array of colors fit for your painting needs. color contained in this set include: cobalt blue, crimson red, lemon yellow, emerald green, titanium white, burnt sienna, raw umber, ultramarine blue, vermillion, viridian, yellow ochre and lamp black
extra large size:
if you are having problems with pricey small or medium sized acrylic tubes, then this acrylic paint studio is exactly what you need. the extra-large size of each tube allows each one to contain 5-6 times more paint than regular sized 12 ml tubes. this ensures that the content of each tube wouldn t get used up shortly quickly; thereby lasting long and giving you full value for your money.
bring your artwork to life
this set offers rich & very intense pigments guaranteed to produce crisp, vibrant and vivid colors that will add life to your artwork and make them more appealing to the eye. it also offers uniform consistency that will help to facilitate smooth color mixing, layering and blending for perfect color coverage and excellent tinting strength when used.
click add to cart and buy with confidence now!
SKU:ADIB01BD2IZLY