HomCom 50 Multi Shelf Tower Office Workstation Computer Desk - White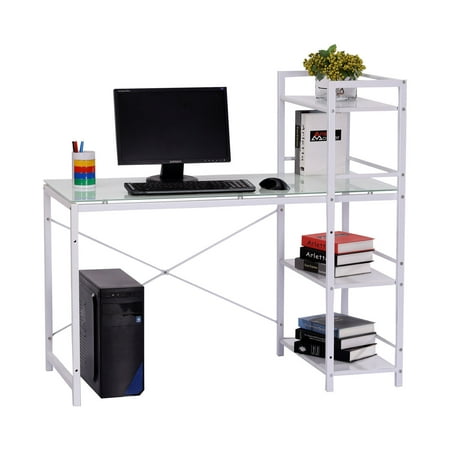 Make room for everything home and office related with this ultra-spacious multi shelf tower computer desk from HomCom. With its numerous levels of storage and large clear desk space you'll have all the room you need to hold your computer components, peripherals and personal items in one place. Give your home or office that edgy, techy, industrial look. The clean, open design will inspire you towards productivity like you've never felt before.
Features:
- Sleek and modern industrial look with smooth clean lines and plenty of storage and display space
- Strong and stable powder-coated steel frame more than supports the weight of all your equipment and accessories
- Compact design won't take up a lot of your space while offering the ideal organization solution
- Easy to clean and care for with just a damp cloth to keep looking fresh and new
- Quick shipping and set up with easy to follow instructions so you'll have it together in no time
Specifications:
- Color: White
- Overall Dimensions: 49.25"L x 25"W x 45.25"H
- Table Size: 49.25"L x 23"W x 0.25"T
- Shelf Size: 22.75"L x 11.5"W x 0.5"T
- Top Shelf Height: 41.75"
- Second Shelf Height: 29.75"
- Third Shelf Height: 16"
- Bottom Shelf Height: 3
- Weight Capacity: 110lbs
- Net Weight: 57lbs
- Material: Tempered Glass, Steel Metal