Toppik Hair Building Fibers Dark Brown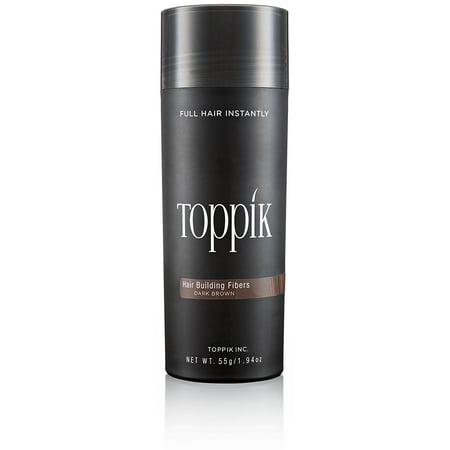 Toppik Dark Brown Giant 55 grams (1.94 oz)
Topical Thinning Hair Solution
Organic Keratin Protein Fibers
Perfect for both men and women
Great on all hair types
Washes out easily with any shampoo
Directions on Usage
Using the custom container, simply shake Toppik over your thin areas. The organic keratin protein fibers will naturally intertwine with your own hair to make it look thick and full in less than 30 seconds. Toppik will never embarrass you. Toppik fibers look natural and cannot be detected no matter how close you look. They will never run, smear or stain, and are proven to withstand wind, rain, and even perspiration. They will stay in place all day and night until you shampoo them out.
Toppik Step-by-Step Application
Towel or blow-dry your hair, or allow it to air-dry completely. Toppik should be used only on dry hair. Hold the Toppik container 2-3 inches above the areas to be thickened. For targeting small spots, you may bring the container closer to the thinning area. Shake Toppik liberally over desired areas with the bottle opening facing completely downward. Don't worry about any fibers falling into surrounding hair, they will simply disappear. If you cannot see the back of your head area during application, use your hand to guide you to the thinning areas. If necessary, apply Toppik with your head down, and look in the mirror afterwards. Fill in further as needed. You will soon learn to apply Toppik effectively with only an occasional glance at the mirror or with no mirror at all. In frontal areas, spread your thumb and forefinger and place your hand on the top of the forehead below the hairline to keep stray fibers from falling onto forehead and eyes.
For the best application on frontal areas we suggest using Toppik Hairline Optimizer. Pat your hair to disperse Toppik fibers throughout the area. Use a soft brush or a comb to style your hair as you wish. You will notice that your hair is much easier to style with the added bulk of the Toppik fibers. If coverage is not complete, add more Toppik and pat or brush until your hair looks thick and full. For best results, lightly apply Toppik FiberHold Spray to lock the fibers into place and to provide added durability and a finished touch.

4 Sizes Available

Large – A 75 day supply. Conceal thinning hair for approximately 2 ½ months with the Economy size.
Regular – A 30 day supply. Conceal thinning hair for approximately 1 month with the Regular size.
Travel
This smaller size is ideal for taking your 'full head of hair' with you when you travel. Great for on-the-go touch ups too – at work, in the car, your purse, gym bag, briefcase... It's also a great way to try Toppik if you are new to the brand.
9 Color Choices:
Simply choose the color closest to your existing hair for undetectable blending. With eight colors available, it's so easy to conceal your thinning: Black, Dark Brown, Medium Brown, Light Brown, Auburn, Medium Blond, Blond (Light Blond), Gray, White
Product Benefits:
30 second application - Conceals thinning and balding in seconds
8 colors available for undetectable matching with existing hair
Fibers magnetically bond securely with existing hair and stay put until you wash them out
Unique bottle has 167 openings to provide total coverage 24 hour hold – even in wind, rain and perspiration
Creates thicker, fuller looking hair instantly
No harmful chemicals or additives
Compatible with hair drugs like Minoxidil and Propecia